OPERATING SYSTEM
Available with Windows 10 pro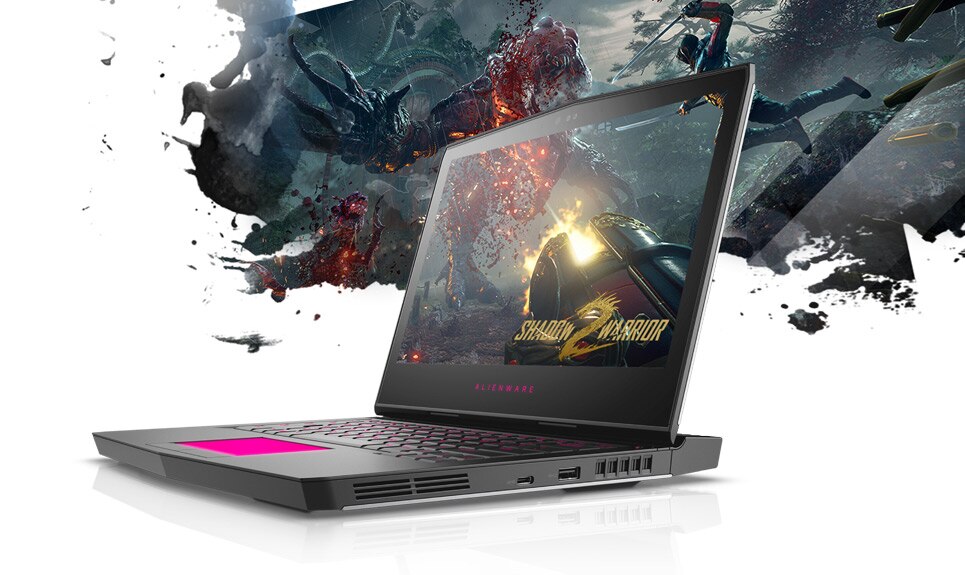 EVOLVED POWER – ALIENWARE'S MOST POWERFUL 13.3INCH GAMING LAPTOP.
You asked. We delivered. Customer feedback led to the first 13.3-inch laptop in Alienware history to feature quad core, H-class, processors.
*
The 7th Gen Intel® Core™ CPUs with 5x the graphics representation at 4K resolutions of its predecessori combined with NVIDIA GeForce® GTX 10-Series graphics, has you experiencing unstoppable gaming immersion wherever you go. From DDR4 memory and SSD-only storage, up to a 21% thinner design with incredible OLED LCD technology, the Alienware 13 has more muscle than ever before.
With the addition of the NVIDIA® GeForce® GTX 1060 and the latest generation of Intel® processors, the Alienware 13 is capable of producing high-end VR experiences. Other GPU configurations offer VR when connected to the Alienware Graphics Amplifier'Windows Hello uses your face as a biometric login, securing your system in a more personalized fashion. And with Tobii Aware software, your battery life and overall system power will be dimmed or amplified based on your actual presence.The Alienware Graphics Amplifier enables future proofing of upgradable full length, dual-wide graphics and an additional 4-port USB 3.0 hub for added peripherals. With a dedicate PCI-Express X4 Gen 3 with up to 40Gbps throughput.
NOTHING BETWEEN YOU AND GAMING.
Witness the difference a 13.3-inch LCD screen can make with supported HD, FHD and QHD resolution options. With the optional QHD OLED panel, you'll experience more vivid and lifelike colors at a contrast ratio of 100,000:1 and with touch-technology, you'll be able to input commands with blazing fast response time. Image details stay sharp and appear brighter thanks to an exceptional black representation. And with a higher color gamut (NTSC 104%), a more true-to-life color range is created, making every detail pop.
A KEYBOARD LIKE NO OTHER.
With an upgraded Alienware TactX keyboard, n-key rollover is now supported, enabling over 108-key commands for maximum actions per minute. It's the only keyboard on a laptop with 2.2mm of key travel allowing for rapid response for any key stroke. Reinforced with a steel back plate for rigidity and uniform feedback with a guarantee to stay functional for up to 10 million keystrokes.
Create a more personalized look for your machine with new and improved AlienFX. Designed with optimized RGB-LED enabled AlienFX lighting and now supported on over 130 games with the option to create and download unique themes.
METICULOUSLY DESIGNED TO DELIVER A KNOCKOUT PERFORMANCE.
An innovative hinge-forward design brings the thermal shelf to the rear, enabling a variety of improved benefits – like a thinner design, better ventilation, higher quality sound and external ports organization.
DESIGNED TO KEEP COOL.
Higher maximum thermal design power support means that your system can handle a higher total wattage for internal components, enabling a higher level of performance. With the entire ventilation system upgraded, your system can stay cool even under extreme graphics pressure.
HEAR EVERY BATTLE CRY.
Due to the upgraded design, a larger and more effective speaker box has been installed, improving audio output for a clearer and more dramatic gaming experience.
CLEAR THE DESKTOP & THE BOARD.
Avoid excess cables and embrace the "desktop mode" design, where most of your critical connections and ports are in the back and out of the way.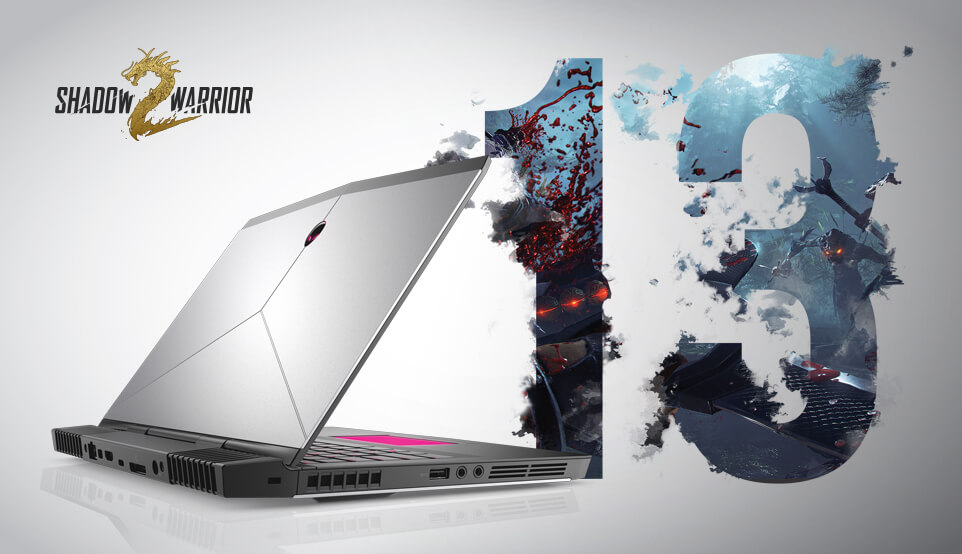 TECH GAMERS NEED.
The Alienware 13 has been upgraded to give gamers the tools they need to be the best.
Killer wireless: Killer DoubleShot™ Pro provides a wired and wireless networking setup that prioritizes internet traffic and data streams to the applications most important to you.
Thunderbolt Type-C port: A multi-use port ready to be used as a USB 3.1 port offering 10Gbps of data transfer, a Thunderbolt connection capable of 40Gbps, or a Display Port enabling various monitors supporting the DP protocol.
Alienware Graphics Amplifier support: Enables future proofing of upgradeable full length, dual-wide graphics and an additional 4-port USB 3.0 hub for added peripherals. We've added a PCIe x4 Gen 3 connection with dedicated throughput for connectivity that's superior even to Thunderbolt.
Gain the advantage: Solid-state drives (SSDs) allow your game to load faster, make virtually no noise and have less failures because they have no moving parts. A quieter system means you can better pinpoint every footstep your enemy takes.
EXPERIENCE THE FULL SPECTRUM.
AlienFX uses 20 different colors to create over 25.6 billion unique themes to give your machine a more personalized look. Supported on over 130 titles, lighting zones can be customized to react to things like in game actions, powering on and off, and notifications by pulsing, morphing or simply holding a solid color. Once you've finished your theme, you can save and upload it to the Alienware Arena community site where you can share your custom creation with others and download any you find. And for times when you want a little less visual stimulation, AlienFX allows you to "Go Dark" by disabling all lighting effects until you're ready to turn them back on.
INCREASE YOUR PERFORMANCE
Using 3DMark's new Time spy benchmark, upgrading to an Intel Core i7 processor on the new Alienware 13 can deliver up to a 51% performance boost within a DirectX 12 gaming environment.
UNLEASH HIGH PERFORMING GRAPHICS
Using 3DMark's Ultra 4K version of the Fire Strike benchmark designed for hardcore DirectX 11 gaming the Alienware 13 proved to be superior delivering 5x the performance at 4k resolutions over its predecessor.
LEAVE YOUR OLD GAMING SYSTEM BEHIND
In a 1080p gaming environment, the new Alienware 13 delivers 2.5x the performance over the previous generation.
ALIENWARE COMMAND CENTER 4.6
AlienFusion: The new Always Ready Mode puts your system in a state in between sleep and awake, allowing core programs to run in the background while the machine runs quietly and in a lower power mode.
AlienAdrenaline: Featuring customizable game and application options, a system performance optimizer and a performance monitoring tool, AlienAdrenaline provides users all the tools they need to keep one step ahead of the competition.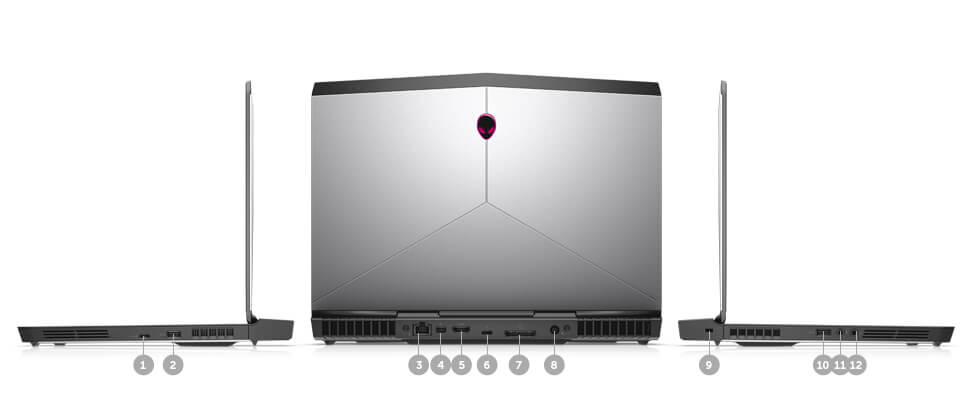 PORTS & SLOTS
1. SuperSpeed USB 3.0 Type-C Port | 2. SuperSpeed USB 3.0 Type-A Port | 3. RJ-45 Killer Networks e2400 Gigabit Ethernet Port | 4. Mini-Display Port 1.2 (certified) Output | 5. HDMI 2.0 Output | 6. Thunderbolt™ 3 Port | 7. Alienware Graphics Amplifier Port | 8. Power/DC-in Jack | 9. Noble Lock port (cable and lock sold separately) | 10. SuperSpeed USB 3.0 Type-A Port with PowerShare technology |11. Headphone 1/8″ Port (retaskable for Microphone/Line-In analog audio input) | 12. Audio Out 1/8″ Ports (Compatible with inline mic headset)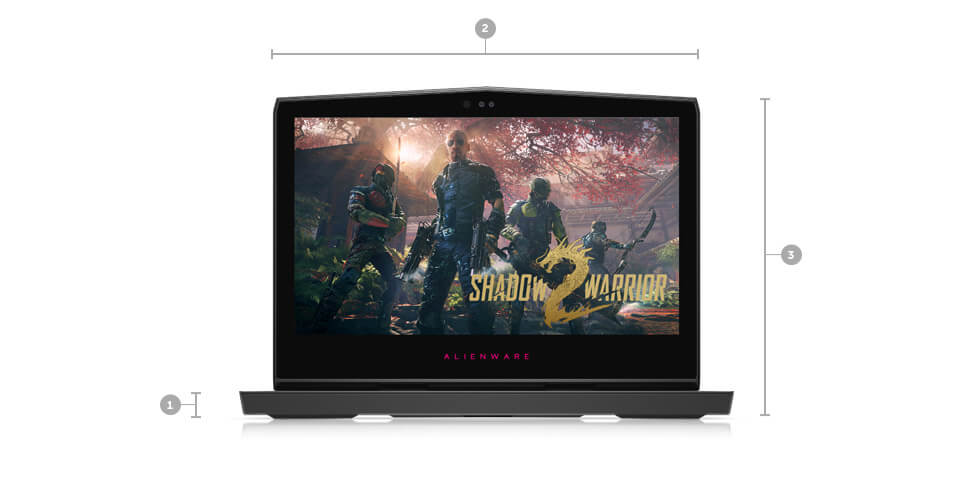 DIMENSIONS & WEIGHTS
1. Height: .87 inch (22 mm) Touch, .94 inch (24 mm) non-Touch | 2. Width: 13 inches (330 mm) | 3. Depth: 10.6 inches (269 mm) | Average weight: 5.8lbs
*
 (2.6kgs)
ESSENTIAL ACCESSORIES FOR YOUR ALIENWARE 13 R3
Maximize the performance of your Alienware 13 laptop with Dell-recommended essential accessories. Look for these great products and more at checkout.